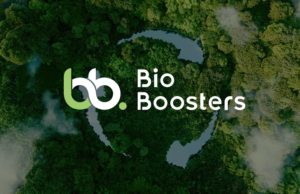 Targi Kielce Hackathon – international competition in bioeconomic innovation
Targi Kielce Hackathon – international competition in bioeconomic innovation in spring 2024 in Kielce!
The first Świętokrzyski Bioeconomy Hackathon "BioBoosters" will take place in April 2024
at Targi Kielce. Its aim will be to develop and implement a more economical and ecological solution for the floor surfaces of the exhibition halls of the Kielce center. The final event, scheduled for April 10-11, 2024 will accompany the EKOTECH Environmental Protection and Waste Management Fair.
The agreement for organizing the event, which will allow Targi Kielce to take another step towards sustainable development and ecology, was signed by the CEO of Targi Kielce – Dr. Andrzej Mochoń
and the CEO of the Foundation for Education and Social Dialogue "PRO CIVIS" – Tadeusz Pęczek. International bioeconomy hackathons "BioBoosters" are innovation competitions aimed at finding solutions to economic or technological challenges that support the green transformation of the economic activities of large and recognized enterprises. "Targi Kielce is a socially responsible company that cares about the environment. It is precisely for these ideas that we decided to develop and implement new product solutions implementing the principles of circular bioeconomy. Thus, we will limit the impact of the Company's business activities on the natural environment. Our ambition is to be among those European exhibition centers that can actively and effectively engage in the green economic transformation." – commented Dr. A. Mochoń.
"I hope that projects we ideate and execute as PRO CIVIS in the field of bioeconomy and circular economy, both those of an innovative and entrepreneurial nature, as well as those related to research and development, add value on the path to the green transformation" – stated PRO CIVIS President Mr. T. Pęczek. Entities that register to participate in the event will work on ideas to replace previously used carpet flooring and implement more economical and environmentally friendly solutions.
Targi Kielce Hackathon will be preceded by a webinar scheduled for February 1, 2024, during which the technological challenge will be presented in more detail. All Polish innovators are invited to the hackathon, including entrepreneurs, scientific and research entities, academic and student teams,  individuals. The aim of the organizers is also to reach as many interested entities as possible, from the entire Baltic Sea Region (Scandinavian countries, the Baltic states and Germany). Participation in the hackathon is an opportunity to establish new business and networking relationships. The winners will receive the prospect of development and product cooperation with the Kielce exhibition center.
Targi Kielce Hackathon will be carried out as part of the "BioBoosters – boosting the circular transition" project ( https://interreg-baltic.eu/project/bioboosters/ ) by an international consortium of renowned universities, innovation hubs and social and economic entities. The Polish representative in the project is the PRO CIVIS Foundation, the organizer of Targi Kielce Hackathon. We invite everyone interested in participating. Detailed information will be available soon on the websites www.procivis.org.pl and www.targikielce.pl .