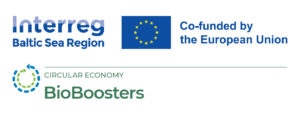 BioBoosters – Boosting the circular transition
PROJECT NAME:
BioBoosters – Boosting the circular transition
IMPLEMENTATION TIME:
01.01.2023 – 31.12.2025
BUDGET:
€ 2 788 365
FINANCING PROGRAM:
Interreg – Baltic Sea Region 2021-2027
PARTNERS:
JAMK University of Applied Sciences (lead partner), Finland
Paper Province, Sweden
Biofuel Region, Sweden
Vidzeme Planning Region, Latvia
Estonian University of Life Sciences , Estonia
Witeno, Germany
Pärnu County Development Center, Estonia
Foundation for Education and Social Dialogue 'PRO CIVIS', Poland
Sunrise Valley Science and Technology Park, Lithuania
WEBSITE OF THE PROJECT
CONTACT INFORMATION:
TADEUSZ PĘCZEK
Chairman of the foundation
t.peczek@procivis.org.pl
ARTUR SOBOLEWSKI
Project Coordinator
a.sobolewski@procivis.org.pl
KAROLINA MISZTAL
Communication Manager
k.misztal@procivis.org.pl
KAROLINA FULARCZYK
Expert
k.fularczyk@procivis.org.pl
PROJECT SUMMARY:
BioBoosters – boosting circular transition – project connects 9 regions with strong bioeconomy innovation ecosystems to help circular bioeconomy business transition in Baltic Sea Region with a Hackathon service.  BioBoosters partnership will implement 18 Hackathons in international network co-operation. The aim is to design, pilot, and refine an international co-operation model and service concept for organizing Hackathons, to be used also after the project lifetime.
Each Hackathon has a leading bioeconomy company as a challenge provider. The challenges are focused on the circular economy transition of bioeconomy business, in other words, the application of circular economy business models in the bioeconomy companies. The challenge provider as well as mentors and solution providers are searched from Sweden, Finland, Germany, Poland, Estonia, Latvia, and Lithuania.