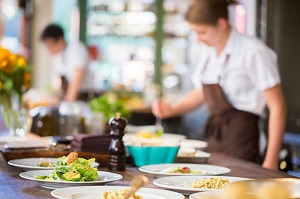 New quality of vocational training as a chance for a better job
"Pro Civis" Foundation has realized the project in partnership with the County Office in Łosice. It was another initiative of the Foundation in the field of vocational education.
Within the project the Foundation cooperated closely with Zespół Szkół No 3 – Agricultural Centre for Lifelong Learning in Łosice. The main objective of the project was to increase students' chances to find a job in their learned profession after graduating from secondary school. Overall, more than 110 young people were supported.
The project was focused primarily on performing the activities supporting the effective start of young people on the labor market. Professional paid internships organized in hotels and holiday resorts all over Poland served as the basis for these activities. The internships followed the internship programs developed together by the teaching staff and the employers. The program mentioned went beyond the scope of obligatory internships. The possibility to work in prestigious institutions allowed students to deepen their knowledge and acquire valuable practical skills.
Another equally attractive form of support for students taking part in the project were specialist courses improving professional qualifications. Students could choose between courses for future waiters, bartenders, baristas, florists and a carving course. The courses were conducted by high-class trainers – employees of renowned hotels, restaurants and florist galleries. After completing their courses, students received due certificates.
Within the project, the Foundation launched the "School Career Point", where students could obtain individual advice from a professional consultant, who also conducted group classes on topics related to career planning, raising competences, development of creative and entrepreneurial attitudes. Students also participated in educational trips: they visited universities and workplaces, met with research staff and production managers.
Activities aimed at developing new interests and passions were another important element of the project. Cyclical additional classes helped encourage young people to self-improve and search for new opportunities for personal development. Students willingly participated in demonstrational culinary lessons conducted by chefs from leading Polish hotels and restaurants. The classes included practical lessons of Italian, French, Japanese and Old Polish cuisine. They were complemented by trips to trade fairs (e.g. EuroGastro, Polagra Gastro), during which young people learned about the latest trends in the gastronomy and hotel industry.
As a part of the project, the Foundation purchased modern teaching equipment for the school in Łosice – for its hotel and gastronomy workshop. Due to that the school has made its educational offer more attractive and raised the level of vocational education.